Meet an amazing artist who intricately puts together Mathematics, Architecture, Geometry,  light& shade, line and composition to bring you impossible worlds. MC Escher, works with these principles  to create works of art that mess with your visual perception.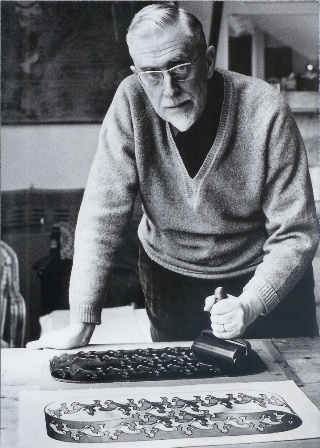 Impossible objects is not just an Escher term, its is what he used to create an illusion of 3 dimensional objects within a 2 dimensional space, using 2 dimensional lines. Here is a classic example of this illusion, the Necker's cube.
The box to the left ( Necker's cube) can be viewed from 2 angles :-
1) As sitting on the floor,hence exposing the front face, right face and topface.OR
2) It can be viewed as suspended in air, exposing the bottom face ,left face and front faces.
See it? 4 horizontal lines, 4 vertical lines, 4 lines at an angle ( 30 degrees?) produces a 3 dimensional object.It also allows us to switch between one box to the other, although we cannot view both of them at the same time.(The phenomena is called Multistable perception. )
The image to the right is an impossible cube.Stare at it for a few seconds and you will notice the flaw in the design. Although, it is seen as a cube at first glance.
Creating illusions through manipulating our visual sense is what Escher practices through his drawings. 
He also worked with Tessellations, to morph objects to form other objects. (Escher is said to have been strongly influenced by mathematician-physicist Roger Penrose. )
Here are few examples, this one below is his first print among the many impossible objects.
An example where he uses tessellation to translate a bird to a fish , fish to a bird.
Here is a another example of Impossible objects.

So! Lets draw something from the impossible world today.